Download the Prescribing Information
Living with pain can be difficult, but you can work together with your clients to make sure their dogs don't face this hardship alone. MOVODYL™ Chewable Tablets (carprofen) provide an economical treatment option that combines the treatment, your veterinary expertise, and your clients' love and affection, so their pets can stay as lively as possible for as long as possible.
NEW Generic Carprofen! The trusted active ingredient you know, at a better value than Rimadyl®!

Available in 25 mg, 75 mg, and 100 mg chicken liver-flavored scored tablets in 60 and 180 count bottles.
MOVODYL Chewable Tablets are a non-steroidal anti-inflammatory drug (NSAID) for relief of pain and inflammation associated with osteoarthritis (OA) and for the control of postoperative pain associated with soft tissue and orthopedic surgeries in dogs.
Access our Dosing Chart Here: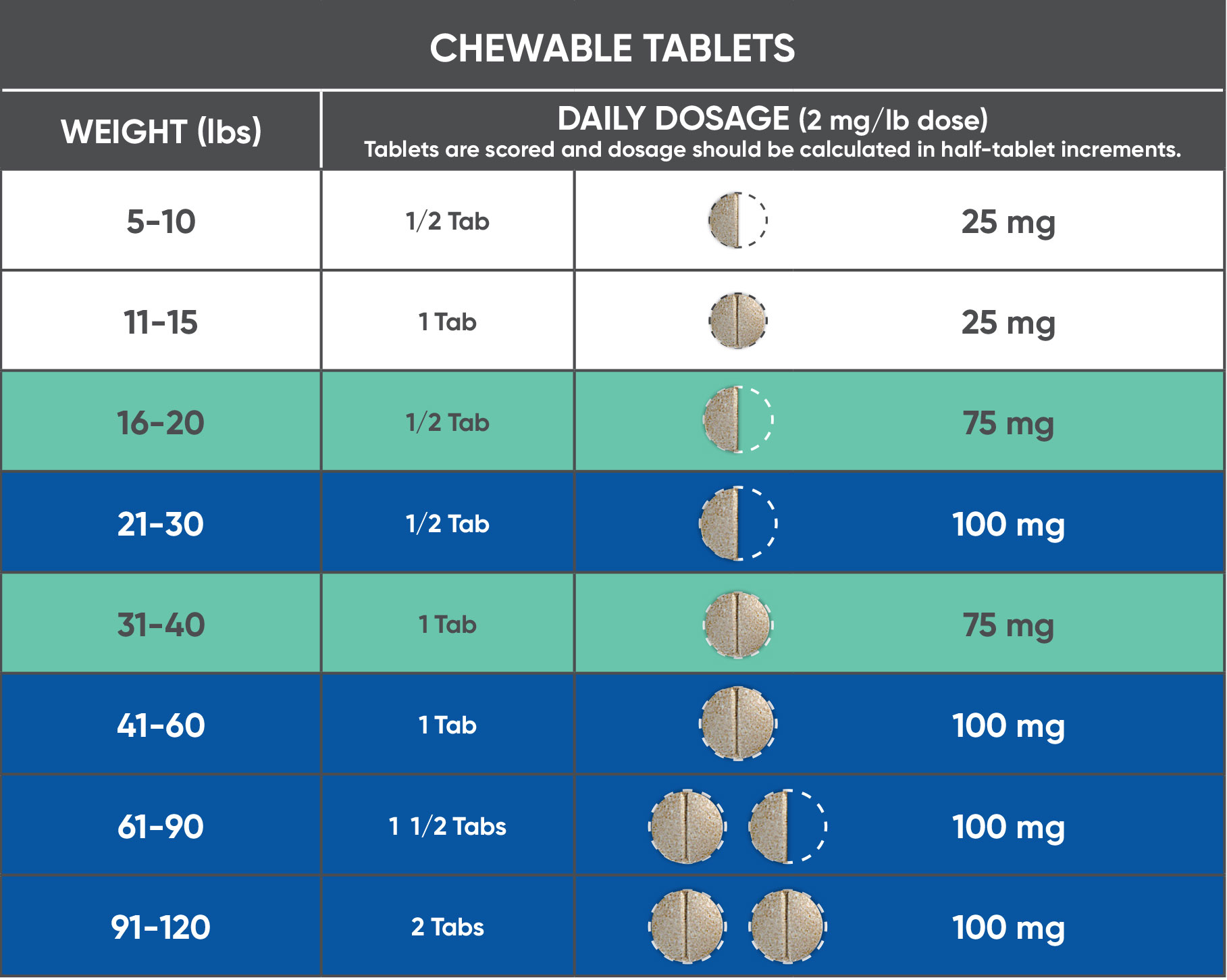 Share our Osteoarthritis Checklist with your Pet Owners: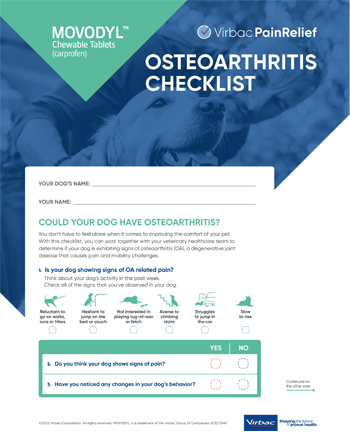 Always provide a Client Information Sheet with prescription.
Carefully consider the potential benefits and risk of MOVODYL™ Chewable Tablets and other treatment options before deciding to use MOVODYL Chewable Tablets. Use the lowest effective dose for the shortest duration consistent with individual response.
The total daily dose may be administered as 2 mg/lb of body weight daily or divided and administered as 1 mg/lb (2.2 mg/kg) twice daily. For the control of postoperative pain, administer approximately 2 hours before the procedure. Tablets are scored and dosage should be calculated in half-tablet increments.
IMPORTANT SAFETY INFORMATION
MOVODYL™ Chewable Tablets (carprofen): Not for human use. FOR USE IN DOGS ONLY. DO NOT USE IN CATS. As a class, NSAIDS may be associated with gastrointestinal, kidney and liver side effects. These are usually mild, but may be serious. Pet owners should discontinue therapy and contact their veterinarian immediately if side effects occur. Evaluation for preexisting conditions and regular monitoring are recommended for pets on any medication, including MOVODYL Chewable Tablets. Use with other NSAIDS or corticosteroids should be avoided. For full prescribing information, call Virbac at 1-800-338-3659 or download here.
©2022 Virbac Corporation. All rights reserved. MOVODYL is a trademark of the Virbac Group of Companies. All other trademarks cited are the property of their respective owners.
Cautions:
Due to the flavoring contained in MOVODYL™ Chewable Tablets, store out of the reach of dogs and in a secured area. Severe adverse reactions may be expected if large quantities of tablets are ingested. If you suspect your dog has consumed MOVODYL Chewable Tablets beyond the labeled dose, please call your veterinarian and call 1-800-338-3659 for immediate assistance.
Warnings:
Keep out of reach of children. Not for human use. Consult a physician in cases of accidental ingestion by humans. For use in dogs only. Do not use in cats. Serious adverse reactions associated with this drug class can occur without warning and in rare situations result in death (see Adverse Reactions). Owners should be advised to discontinue MOVODYL Chewable Tablets therapy and contact their veterinarian immediately if signs of intolerance is observed.