Cat Heartworm Disease
Did you know that 44% of cats receive an annual routine exam each year, but only 7% of cats receive heartworm prevention?1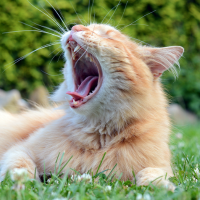 Although heartworm prevention is crucial for dogs to avoid the expense, complexity and risk of heartworm treatment, it is arguably more critical in cats because there is no safe and effective heartworm disease treatment for cats. More so, infection with just a single heartworm can be fatal to a cat.
So why are 84% of cat owners who visit the veterinarian each year not using a heartworm preventive? Many clients mistakenly believe their cat is safe because they live indoors, but no home with doors and windows is completely protected from mosquitoes. In one retrospective study, 27% of cats diagnosed with heartworm infection were housed exclusively indoors and 69% were indoor/outdoor cats.2
The Food and Drug Administration (FDA) recommends placing "both indoor and outdoor cats on a year-round, FDA-approved medication to prevent heartworms."3
Your clients both respect and expect your recommendation. At least two-thirds of pet owners in the U.S. see their veterinarian or staff as the primary source for information about their pet's health.4 Using your voice of authority may be the difference between your feline patients remaining safe from deadly heartworms or facing fatal consequences.

Let's work together to close the gap
In a 2018 study, about 80% of clients whose pets didn't receive preventive care stated finances as a barrier.5 That's where we can help. We're on a mission to help make sure every cat is protected from life-threatening heartworm disease. Our oral and topical heartworm prevention medications have been trusted for many years to provide comprehensive protection against heartworm disease at a value that makes protection accessible to every pet.
References
American Pet Products Association. 2019-2020 APPA National Pet Owners Survey.
Atkins CE, DeFrancesco TC, Coats JR, Sidley JA, Keene BW. Heartworm Infection in Cats: 50 Cases (1985-1997). Journal of the American Veterinary Medical Association. https://www.ncbi.nlm.nih.gov/pubmed/10935039. Published August 1, 2000. Accessed May 13, 2021.
Prevent Heartworms in Dogs, Cats, and Ferrets Year-round. Food & Drug Administration. https://www.fda.gov/consumers/consumer-updates/prevent-heartworms-dogs-cats-and-ferrets-year-round. Accessed May 12, 2021.
Study: Vets Most Popular Source For Pet Health Information. Veterinary Practice News. https://www.veterinarypracticenews.com/study-vets-most-popular-source-for-pet-health-information. Published November 5, 2010. Accessed May 14, 2021.
Program for Pet Health Equity/Access to Veterinary Care Coalition (AVCC) https://pphe.utk.edu/access-to-veterinary-care-coalition-avcc/. Accessed May 13, 2021.