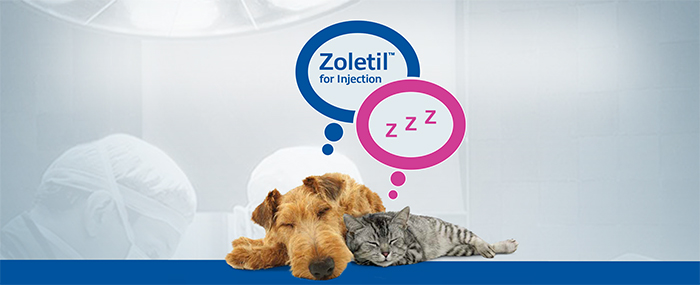 Indications:
Zoletil for Injection is indicated in dogs for restraint and minor procedures of short duration (30 min. avg.) requiring mild to moderate analgesia.
Minor surgery is considered to be laceration repair, draining of abscesses, castrations and other procedures requiring mild to moderate analgesia.
(See Dogs under Dosage and Administration.)
Zoletil for Injection administered intravenously is indicated in dogs for induction of anesthesia followed by maintenance with an inhalant
anesthetic.
Diagnostics
3-4.5 mg/lb

IM adminstration

Minor procedures/
short duration
(castrations, wounds)
4.5-6 mg/lb
IM adminstration
IV for anesthesia induction
(inhalant anesthetic maintenance)

1-2 mg/lb to effect

*IV should be administered slowly, over 30-45 seconds

IV adminstration
Supplemental doses
Less than initial dose, total not to exceed 12 mg/lb
IM adminstration

IM: Supplemental doses should be less than the initial dose, and the total dose given (initial dose plus supplemental dose(s)) should not exceed 12 mg/lb.

IV: After approximately 30-60 seconds, the dog's level of consciousness, muscle relaxation, and jaw tone should be assessed to determine the ability to intubate. If after waiting 60 seconds the dog's level of anesthesia is not sufficient for successful intubation, an dose may be administered;the total dose should not exceed 2 mg/lb.
Minor procedures: dentistry, treatment of abscesses, foreign body removal and related types of surgery

4.4 to 5.4 mg/lb

IM adminstration

Short duration:
laceration repair, castrations, and other procedures of short duration

4.8-5.7 mg/lb

IM adminstration
Major procedures
(Ovariohysterectomy)
6.5-7.2 mg/lb
IM adminstration
Supplemental doses
less than intial dose, total not to exceed 32.7 mg/lb
IM adminstration
CONVENIENT
Ready-to-use combination containing two molecules in a fixed ratio formulation providing:
Rapid onset
Flexible dosage
IM or IV injection for dogs
IM injection for cats
Tiletamine HCL - a dissociative agent that produces profound analgesia plus deep surgical anesthesia in combination with zolazepam.
Zolazepam - a non-phenothiazine diazepinone molecule that produces tranquilization and, together with tiletamine HCL, adequate muscle relaxation.
VERSATILE
Dose-dependent duration and depth of dissociative anesthesia
SHORT DURATION PROCEDURES
Suitable for common procedures requiring anesthesia and analgesia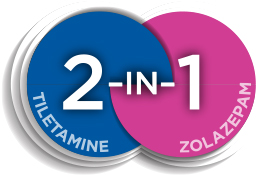 Important Safety Information:
ZoletilTM for Injection (tiletamine and zolazepam for injection) should not be used : 1) in dogs and cats with severe cardiac or pulmonary dysfunction, or pancreatic disease; 2) at any stage of pregnancy or for Cesarean section; 3) in cats suffering from renal insufficiency; 4) with phenothiazine-derivative drugs as the combination produces respiratory and myocardial depression, hypotension, and hypothermia. Pulmonary edema has been reported in cats. Respiratory depression may occur following administration of high doses. Copious salivation that may occur during anesthesia can be controlled by concurrent administration of atropine sulfate. Reduce dosage in geriatric dogs and cats. Patients should be continuously monitored. For the full prescribing information download here or call 1-800-338-3659 or download here.
©Virbac Corporation. All rights reserved. ZOLETIL is a trademark of the Virbac Group of Companies.