Virbac Kansas City Distribution Center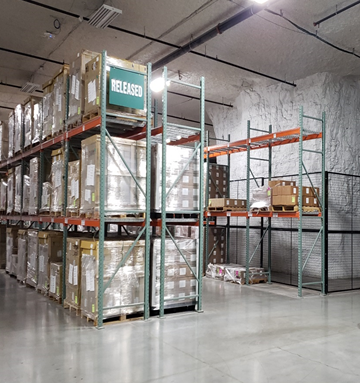 Our Kansas City Distribution Center in SubTropolis
KC DC - It stands for our Kansas City Distribution Center which is located in SubTropolis, the world's largest underground storage facility (55,000,000 square feet). See general reporting about the complex here. Almost all of Virbac North America's finished goods are shipped out of our KC DC.
From the KC DC we handle all types of logistics, but what exactly is logistics?
Logistics is defined as the process of planning and executing the efficient transportation and storage of goods from the point of origin to the point of consumption. The goal of logistics is to meet customer requirements in a timely, cost-effective manner.
Logistics encompasses many different activities that involve many different departments throughout an organization. These activities include inbound and outbound transportation management, warehousing, materials handling, order fulfillment, logistics network design, inventory control, supply/demand planning and management of third-party logistics services providers.
Working in logistics allows for the opportunity to work with people in many cross-functional departments, from various parts of the world. Each product provides different challenges and the three main areas of focus are:
Regulatory requirements by country
Temperature restrictions
Meeting our customers' needs in a timely manner
All three have an impact on how we determine the best and most cost-effective way to get the product to its destination.
I have been fortunate over the years to have worked with several great mentors who have taught and educated me on the importance of our functions. It is a great feeling to visit our customers' businesses and see our products on display, being dispensed or administered, and taking some personal satisfaction knowing that our logistics team helped make it possible for animals to experience better health.