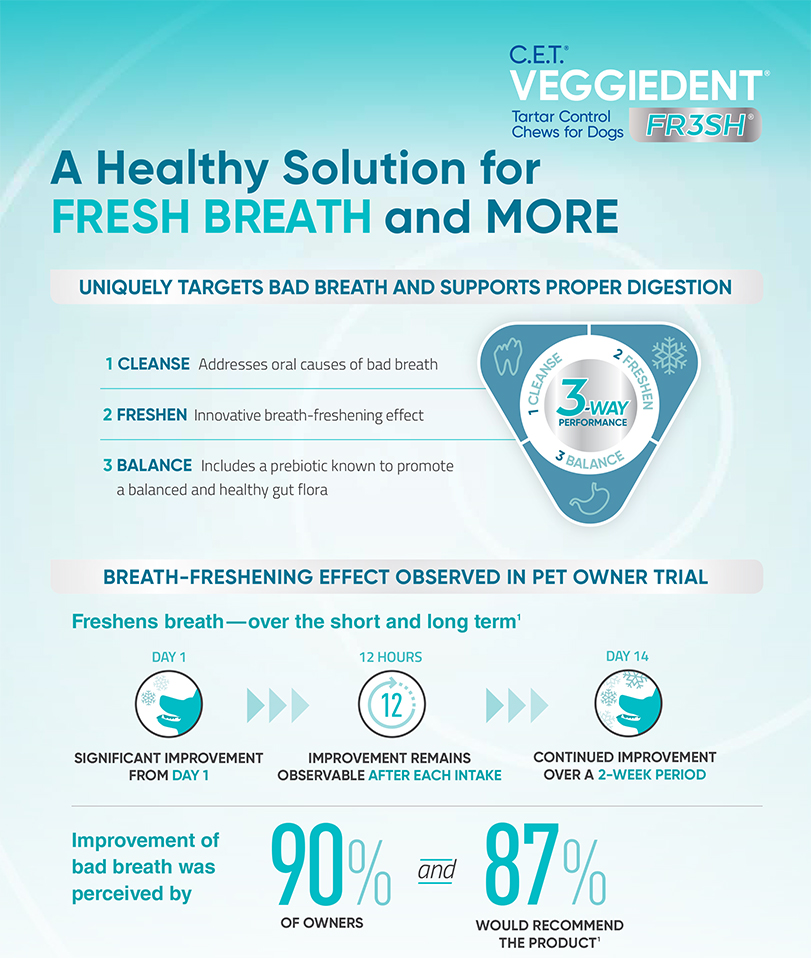 Plant-based alternative to rawhide chews—free of animal protein and wheat gluten
3-way performance that cleans teeth, freshens breath, and supports proper digestion:

CLEANSE - Addresses oral causes of bad breath
FRESHEN - Innovative breath-freshening effect
BALANCE - Includes a prebiotic known to promote a balanced and healthy gut flora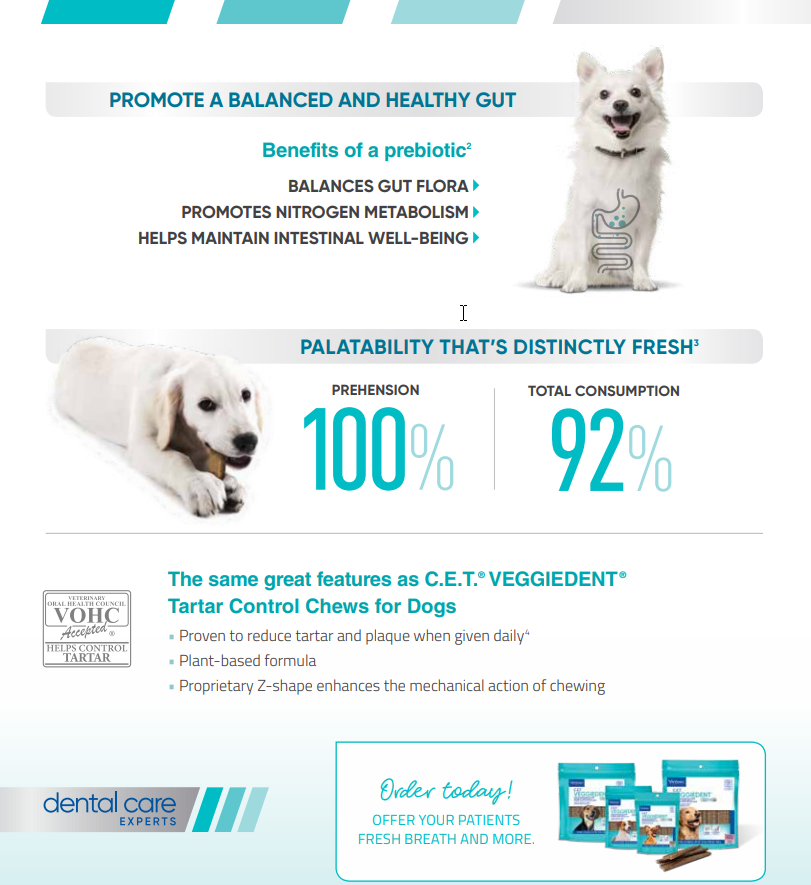 VOHC Seal for tartar control
Proprietary Z-shape - Maximizes prehension, allowing the chew to scrape away tartar in hard-to-reach places and enhances the mechanical action of chewing
Proven to reduce plaque by 37% and tartar by 70% when given daily

5

Improvement of bad breath was perceived by 90% of pet owners and 87% would recommend the product

1

Palatability: Prehension – 100%, Total consumption – 92%3
Packaged in resealable pouches and available in:

Extra Small (<11 lbs.)
Small (11-22 lbs.)
Medium (22-66 lbs.)
Large (>66 lbs.)
Ingredients:
ACTIVE INGREDIENTS: Corn starch, glycerin, soy protein isolate, rice flour, brewers dried yeast, sorbitol, ground corn cob, erythritol, potassium sorbate (preservative), water, inulin, pomegranate.
References:
Chala V, Chaix G, Navarro C, Espuna G. Evaluation of breath freshening effect in dogs following chew administration: an open field trial. In: Proceedings from the European Veterinary Conference Voorjaarsdagen; April 11–18, 2018; The Hague, Netherlands.
Flickinger EA, Schreijen EMWC, Patil AR, et al. Nutrient digestibilities, microbial populations, and protein catabolites as affected by fructan supplementation of dog diets. J Anim Sci. 2003; 81:2008–2018.
Chaix G, Lloret F. Palatability in dogs of a new vegetable dental chew (VeggieDent® FR3SH™) which helps to reduce plaque and calculus formation and helps to maintain a healthy and fresh breath. In: Proceedings from the 27th European Veterinary Dental Forum; May 31–June 2, 2018; Innsbruck, Austria.
Clarke DE, Kelman M, Perkins N. Effectiveness of a vegetable dental chew on periodontal disease parameters in toy breed dogs. J Vet Dent. 2011;28(4):230–235.